Is using a paraphrasing tool cheating? Paraphrasing Dos & Don'ts

If well done, paraphrasing is a great method to plagiarize content and legally use it wisely without being caught. However, there are important paraphrasing dos and don'ts that one should adhere to.
One of the don'ts is using rewriting tools. Most people use them, but the question is whether using a paraphrasing tool is considered cheating.
You can avoid using these tools by engaging experts to handle your writing. Check out our seasoned essay writers, who are always available to help you paraphrase your essay or completely help with your homework.
Before paraphrasing, reading and knowing the main idea or details of a sentence, paragraph, or topic is important. Paraphrasing makes you understand a certain topic deeply and shows critical thinking.
Let us Write your Essays! No Plagiarism
Get an expert writer to score an A in your next essay assignment. Place your order today, and you will enjoy it.
Is Using a Paraphrasing Tool Cheating?
Ideally, paraphrasing tools is considered cheating because the content is not original, and the tools do not credit the real author.
It is cheating because you have not written the content yourself but used a computerized tool or bot to spin the content for you. However, paraphrasing tools can make the work easier when combined with human writing and referencing.
On the other hand, paraphrasing a small piece of information and citing the author cannot be regarded as cheating. When one doesn't understand the language used to write an essay well and is needed to paraphrase, these tools come to the rescue.
Paraphrasing tools are software that can be used to rewrite articles and essays without plagiarizing. Some of these tools generate 100% original unique content. The whole exercise can be referred to as essay spinning. These tools make paraphrasing easier when one is needed to paraphrase large amounts of work.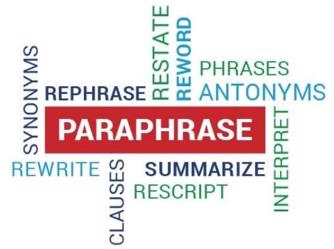 Imagine having to paraphrase a whole book or novel.
It is not impossible but it will take much of your time.
It is, therefore, an option to use a paraphrasing tool to make the work easier. 
When in places where you can't easily access any writing material, paraphrasing tools give you a better option. They can be used anywhere, anytime.
Paraphrasing tools reduce the effort that you will be required to put in place when manually paraphrasing. This makes you concentrate and focus your mind on writing specific high-quality content that is needed.
Paraphrasing is not easy, mostly for beginners who know little about it. Using paraphrasing tools may guide them on how it is done effectively. This, therefore, cannot be regarded as immoral.
Advantages of using Paraphrasing Tools
Paraphrasing tools have the following advantages:
You can easily paraphrase yourself. Also, the tools are always available. You can use them anytime you want.
Most of the paraphrasing tools are free and cheap to use.
Guarantees plagiarism-free work. These tools face a lot of criticism but it is fair to say that most of them provide you with original content. The content is plagiarism free, with no trace of copied work.
It is not restricted to certain types of papers. It is suitable for use in professional, academic, and personal papers.
Besides paraphrasing, these tools correct grammatical, spelling, and punctuation errors to improve your work's quality.
These tools also eliminate unnecessary words and sentences in your content. Even long sentences that may have distorted meanings are cut short into meaningful sentences.
The Dos and Don'ts of Paraphrasing
These paraphrasing dos and don'ts guide you on how to paraphrase well and avoid plagiarism and chances of cheating. However, one of the don'ts is to avoid paraphrasing tools because they are unprofessional and considered cheating.
To paraphrase effectively, follow the following simple steps to the latter. It is these steps that will determine the effectiveness of your paraphrased work.
As we determined in another post, paraphrasing is considered plagiarism; if you do not do it well, you will be flagged for copy-pasting. And avoid misrepresentations to keep the facts real.
Paraphrasing Dos – Proven Tips and Tricks
The following tips can make sure that you effectively paraphrase your work. However, you can hire us to paraphrase your essay if you need our writing solutions. However, you can handle it on your own.
You can start your sentences at different points compared to the source. Make sure you mention the key pieces of information in a different order. This will help reduce the resemblance of your content with the original.
Using as many synonyms as possible. Words with the same meaning help a lot when paraphrasing content and making it look unique.
When having trouble thinking of synonyms you can use without changing the meaning, you can use specialized tools for that. Though acceptable, it should not be overused. This may likely distort the message.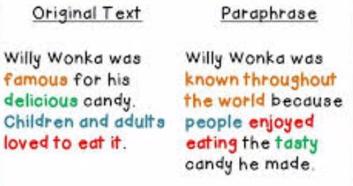 Breaking information into separate sentences.
Playing with the number of sentences to make your text look different is allowed.
One should remember that the word count of a paraphrased work should not be much different from the word count of the original content.
Changing the sentence structure. This can be done effectively by changing an active voice to a passive one. This is by changing sentences led by subjects to become sentences led by objects.
It is important to cite and reference your work to avoid plagiarism. Using quotation marks is also important in words that are said in the book also to help avoid plagiarism.
When you complete writing your version of the work, it is important to proofread and edit your work. Check whether you have not made grammatical errors and whether you have cited and referenced correctly.
Paraphrasing Don'ts – What to Avoid
Paraphrasing is a skill that needs to be learned. It is important to note things that you should not do when paraphrasing. As recommended in our guide on cheating on essay writing and scores, paraphrasing should be done well. To do that, avoid the following.
1. Do not Ignore the Author
First, you should avoid failing to acknowledge the source of ideas and information you have used in your content through in-text citations. It is important to note that common knowledge does not need to be cited.
This is because this type of information is widely known and found in many different sources. It is not worth the risk when you don't know the popularity of some information. Therefore, you should cite it to avoid risking plagiarizing.
2. Use Quotation Marks for Quotes
Failing to include quotation marks in terms and phrases that a different author said. You cannot quote a text without using quotation marks. Readers will easily identify such texts as plagiarized texts
3. Paraphrase Sentences, not words
Avoid changing and playing around with a few words of an author's original work for use in your paper. This will likely be detected as plagiarism.
You should combine changing sentence structures, using synonyms, and citing your work to have a high chance of escaping plagiarism. One should also take note of the use of keywords from the author's work.
4. Avoid Rearranging Words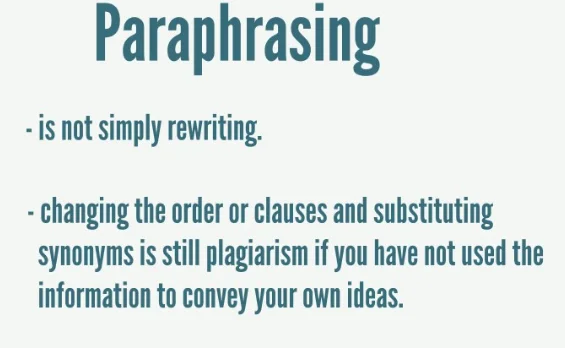 Rearranging and replacing keywords will not help you escape plagiarism. Most plagiarism-checking tools and careful readers easily detect these tricks.
Using the same sentence structures as the original version is the easiest way to risk your work for plagiarism. This is because not much changes in your work compared to the original.
5. Avoid Paraphrasing Papers from Public Databases
It is usually risky when paraphrasing from public databases. Most of these sources are licensed. They can only be closely paraphrased if the sources are properly attributed.
The attribution can be in-text attribution or general attribution.
6. Avoid Paraphrasing Tools
Using paraphrasing tools should be avoided and should not substitute one's paraphrasing. They are mostly inaccurate, flawed, and time-wasting. This is because plagiarism scanners like Turnitin can detect paraphrasing and flag you for copying.
Most readers are likely to detect plagiarism in their work because using a paraphrasing tool is basically cheating. Read on to know if the use of paraphrasing tools is considered cheating or not.
How to Paraphrase Quickly
The easiest way to paraphrase quickly is to read, understand, and write. Paraphrasing quickly can be done by reading and understanding the passage. This will make it easier to interpret the work in your own words.
You can then change the words without changing the meaning and create syntax. Lastly, change the structure of the paragraphs and add citations and references.
Another way to paraphrase quickly is by using paraphrasing tools. This becomes an option when you are in a hurry and with a budget.
However, before submitting the work on the tool, read and understand it. But be careful because using a paraphrasing tool is considered cheating.
After receiving the output from the tool, read through it again and access making corrections where you feel you can do better. This will save time and make the content more original.
FAQs on Paraphrasing Tools
Are paraphrasing tools legit?
Paraphrasing tools can be legit based on how you choose to use them. Specific ways make paraphrasing tools legit. When you have little or no time to paraphrase a given work, paraphrasing tools offer the best help.

It can also offer the best help when you barely understand the language. However, using paraphrasing tools just for the sake of it encourage laziness in writers. It is advisable to paraphrase on your own rather than using paraphrasing tools.

This helps you paraphrase better, understand paraphrasing more, and save time. Notably, most paraphrasing tools' output may be incorrect, and careful readers can identify plagiarism.
What is the Best Website for paraphrasing?
We are arguably the best website for paraphrasing. It offers a service for any text using experienced professional writers and rewording sentences. The writers of this website are high-level graduates from a wide variety of academic backgrounds.

Our website ensures on-time delivery of jobs given and guarantees full customer satisfaction. Customer service is usually available at any time. It offers fair prices and discounts. This website also provides free proofreading of all writing work.

Rewording done by this website helps avoid plagiarism and transform content. Rewording summarizes content, makes it easy to understand, and avoids using direct quotes. We will deliver untraceable essays by making you as unique as possible.
What is the best paraphrasing tool?
There is really no tool that can be said to be the best paraphrasing tool. It processes language naturally and uses advanced artificial intelligence. A good tool has to apply every method of paraphrasing, as below;
It is fast. In roughly 20 seconds, it can paraphrase 500 words.
It has more than six editor layouts.
The text editor is powerful, and you can use it to add synonyms.
It is accurate because it uses AI.
Besides, It has a three-day free trial.
It is usable on any device that can access the internet.
Customer care service is fast and helpful.
Watch this video to learn more on this.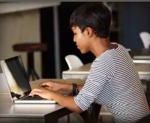 With over 10 years in academia and academic assistance, Alicia Smart is the epitome of excellence in the writing industry. She is our managing editor and is in charge of the writing operations at Grade Bees.