You are probably creating a college essay if you are reading this post. The question that lingers in many students' minds is; do college essays need a title? The straight answer is it is not necessary, although a title is not a bad idea.
Practically, a college essay needs a title to make it complete, give a hint on the topic you are writing, and arouses the interest of the reader. The title of an essay is the fertile ground to capture the reader's attention to showcase your writing and creative skills. Moreover, the title offers direction to your topic. Therefore, include it.

Importance of a Title for College Essays
The title of your college essay is vital in that it can break or make the quality of your paper. The title gives the professor a hint of your topic and arouses the interest of the reader to know what the entire essay carries.
Also, the first thing that the reader will behold is the title. In response, you must make it catchy to provoke the audience to read your content. You should use the right words for your work to be accurate.
How to Craft a Good Title for Your College Essay
By crafting a good college essay title, you will be creating the identity for it. You should put some weight on it since readers will remember the essay by the given title. You should develop an engaging title by using the following tips.
1. A Catchy Hook
The right college essay title will reveal the topic and expose your approach and your area of discussion. The title should be independent, transparent, and self-explanatory. In addition, the title should be simple and purposeful.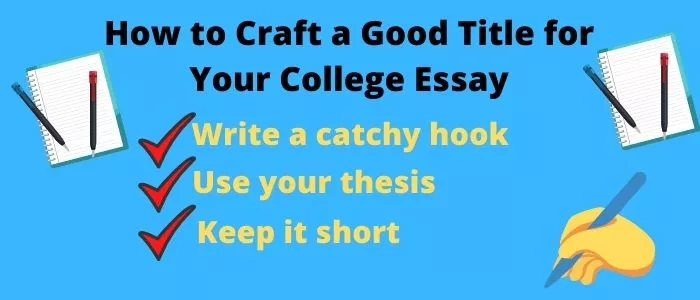 You have a suitable hook as a creative element to draw your audience.
The hook should be a readable phrase, catchy, and advertise your paper's subject.
The hook can still be a direct quotation from the text. Remember, you can even use a quote for an essay title if it is necessary.
Also, a hook can be an exciting element of your topic. A good college essay title should also contain key terms.
Such makes the essay to be more searchable in the database. Load the title with key terminology that to introduce the reader to the concepts of the topic. Never allow your title to look general since it will sound meaningless to the reader.
2. Use your Thesis
You can leave a lasting title by using your thesis. The right title should propel one to read the entire paper. You should use the thesis statement to find a reason to make your audience curious about what you are talking about. You can either use the whole of your thesis statement or use a section of it in your title.
The author should only use relevant words. For example, you can use two to three main words and put them together. Do not use jargon or other abbreviations when making a title.
3. Keep it Simple and Short
The primary purpose of a title is to name the essay paper. One does not have to tell the whole story within the title or offer any useless details. The best deal is, to sum up, your paper using a few words.
Make it original and unique by avoiding copying from others. You can only get inspiration from other authors and customize your own according to the needs of your essay.
Mistakes to avoid when Creating a Title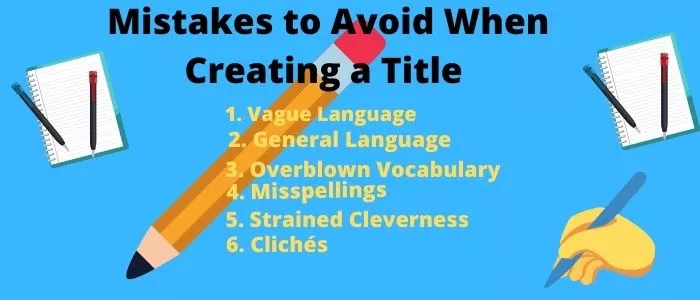 1. Vague Language
You should be precise by sticking to what you want to say.
The title should not carry any unnecessary words that harbor no meaning.
Ensure that you use words that add value to your essay title only.
2. General Language
Using broad and overly general language is a continuation of vague language problems. The title should not cover far too much. A title that is too long will make the reader begin to doubt the content even without going through it.
3. Overblown Vocabulary
The best approach is to use clear and simple language. When you use heavy vocabulary to sound too intelligent, you will make the reading experience torturous. A simple title makes your college essay to be readable.
4. Misspellings
It will be so embarrassing if you misspell your title. Before you submit your paper, ensure you take your time to check for typos in the title and the whole essay. When the reader sees an error in the title, it makes one doubt your writing ability.
5. Strained Cleverness
Cleverness can be okay as long as the title does not sound ridiculous. It is not automatic that some readers will understand the supposedly clever illusion. The writer must be keen when depending on the wordplay in the title.
6. Clichés
Suppose your title has some clichés; it is a sure way of informing the reader that what you want to narrate is unreliable. Avoid making the initial impression to seem like you lacked nothing original to discuss. Once in that trap, stop and begin to re-evaluate your title.
Characteristics of a Good Essay Title
A title is a suitable place where you give direction to allow the reader to know what is ahead. When you write a good title, you will be creating a solid essay outline. Here are some key qualities of a good college essay title: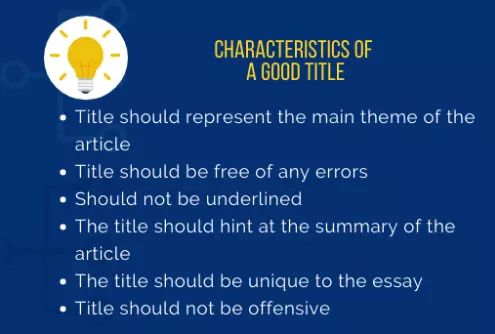 1. True and Believable
Let your essay title be factual. One of the mistakes that student makes is to make it catchy and cause it to dilute the truth.
As such, you will be making the headline to be inaccurate.
You will be creating a poor impression on your professor as long as your title does not deliver.
2. Brief
The title should be short to enhance readability. Let the college essay title be brief since the long ones can procure confusion. You can achieve brevity by avoiding using a description in your title.
Ensure that the title does not sound too fluffy. If you are unable to write your college essay, feel free to ask for our essay writers to help you out.
Get a College Essay done for you!
Let our essay writing experts help you get that A in your next essay. Place your order today, and you will enjoy the benefits.
3. Neutral
For your title to be compelling, then allow it to be neutral. It can be counter-productive if you begin to confront the reader with your radical opinion within the title.
The title does not have to be full sentences. Do you know a sentence will express a position or judgment? You can also use queries. In fact, you can use questions in college essays and they will make perfect sense if well positioned.
The title should be a starting point for the reader to reconstruct the thought process based on the information given in it.
4. Accurate
It does not matter the niche. No one should write a title based on false accounts. From the onset, the title should be immediately understandable. As such, it will guide the reader to decide to proceed to read it or not.
Suppose the title fails to orient the audience by not providing details explicitly, the chance of one to read through the essay is minimal.
5. Attractive
No one wants to read through a boring piece. For that reason, ensure your title is attractive. Use the phrases that will trigger the reader's curiosity to discover what the main essay discusses.
While writing a good title, do not exaggerate facts to cause unnecessary attention, making your work appear deceptive. You can use an exciting hook that is factual and accurate. It should be eye-catching and compelling.
6. Predicts
The right title should predict the content of your research. The title should explain what the essay is all about without misleading or creating wrong expectations. It should not have anything that the audience will not get in the essay.
The title acts as a summary of what you will be stating in the entire essay. As such, this title should only give a clue of what the reader should expect in the full context.
When not handling complex essays and academic writing tasks, Josh is busy advising students on how to pass assignments. In spare time, he loves playing football or walking with his dog around the park.